Change - talk is easy, action is harder
What are you trying to change:
Someday Culture is your organisation's social training app for implementing changes and getting your strategies revitalized.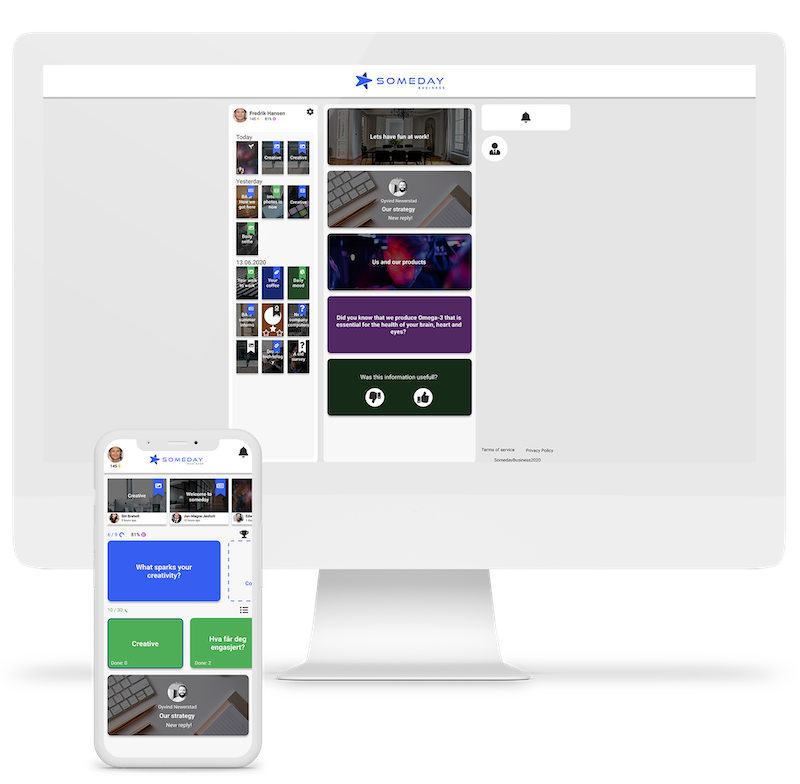 How it works
For a change to be successful we belive that you can not do it by yourself.
Through our technology we base our method on these 5.
70-20-10 model
We base our learning off the 70-20-10 model and our programs are designed for the employees to learn on the job and not just in theory
Training plans
We believe if an action is done several times you will learn it by heart. That`s how our programs are designed, for the employee to start where they feel they need it the most and work their way from there through repetitions.
Commitment
To be able to change an organisation we need a commitment from the employees. Make it practical for the employees to understand and commit to the changes that you are about to launch.
Gamefication
Our app are using gamification to engage the employees. We are making it fun to do the tasks offered in the app
Power of the community
If you want to go fast, go alone, if you want to go far go together. This is in our core from our design. Changes within an organisation can not just be one person, it needs to involve. Through our feed, and the community within we belive you are able to go far with your changes.
❮
❯
PROGRAMS
Onboarding
As many as 86% of new hires will quit within 6 months if the company is not providing these simple things. Continuously follow up, access to all the tools needed to do the work and a buddy system with an intention. By using our program not only will everyone involved get notifications when they get a task, but you will make sure that the new hires are feeling welcome and being given the best chances for success.
Read more
HMS
Everyone agrees that safety is important, but implementing those new routines can be hard. That's where our program is great. It has tasks supporting the organization's strategic safety goals and its build upon gamification and the power of the community.
Read more
Sustainability
Our sustainability program is focuses on what the employee as individuals are able to do. The program touches into several of the UN sustainability goals and its a fun way to actively see how you participate to make the world a little better
Read more
Management
All businesses will be affected by good or poor management and those that feel the most pressure are team leaders. With our program you can help them feel empowered in the position and install a unified management culture across the company
Read more
PRICING
BASIC
If a great onboarding experience is the only thing you need, this deal is optimal for you
NOK 30 per month per user
Onboarding
News
Mail support
ENTERPRICE
If you think your employees are your greatest asset, this is the package you need
NOK 40 per month per user
Onboarding
News
Mail support
White label design
Training program
Phone support
Analytics
Lets talk!
Leave a message and when you are free! We will contact you shortly